Every month we get asked to make a variety of different and unusual gates in various styles and sizes; and this month has been no exception.  Quite often the gates are for a "difficult gap" which is hard to fit and will certainly not take a standard gate.
This month we made our smallest bent heel gate ever!  Just over 2'6″ wide.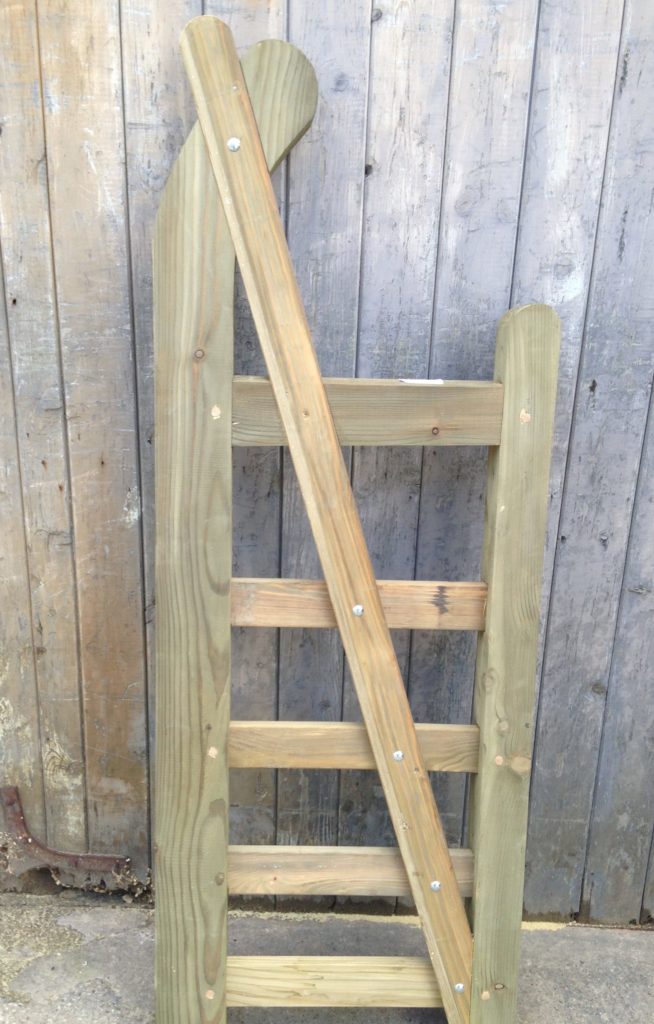 We have also made a gate for an opening that was wider at the top than at the bottom and the client specifically wanted the gate to be shaped to fit the gap (excuse the slightly grainy photo!).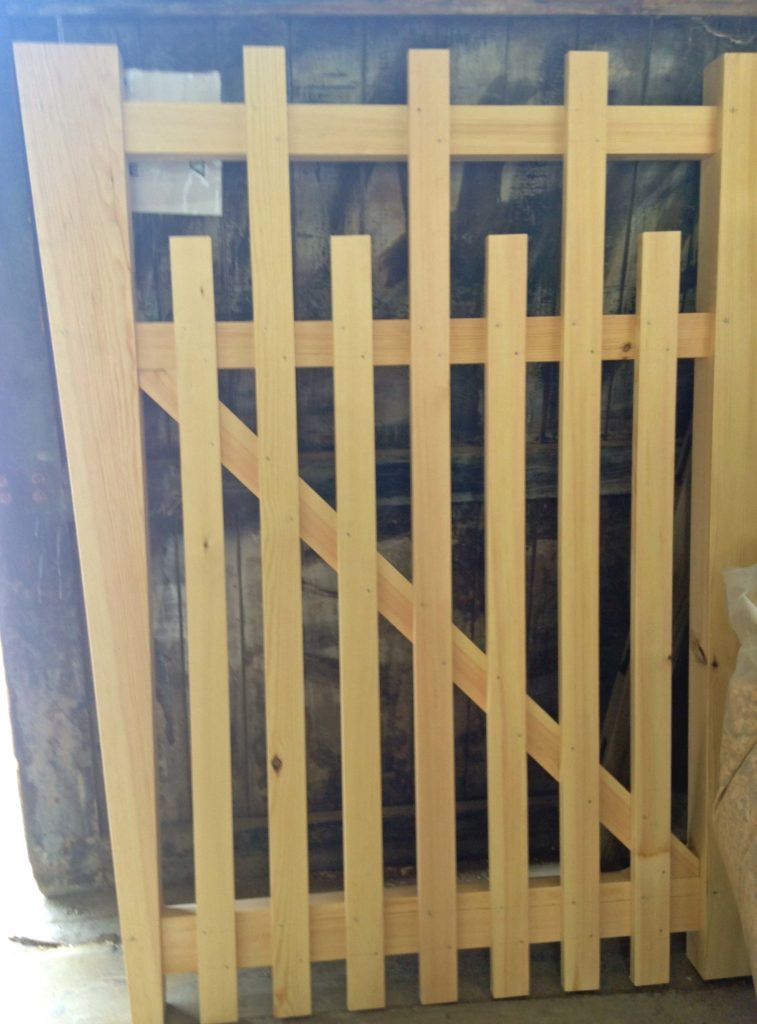 Have a look at some of the other bespoke gates we have made by clicking here.
This month has seen us making a variety of different tables.
We have made this beautiful oak bird table for a famous celebrity chef – we hope it entices many different species of birds to his garden!! Made from oak, this stunning table is not only practical, but is a stunning feature in any garden.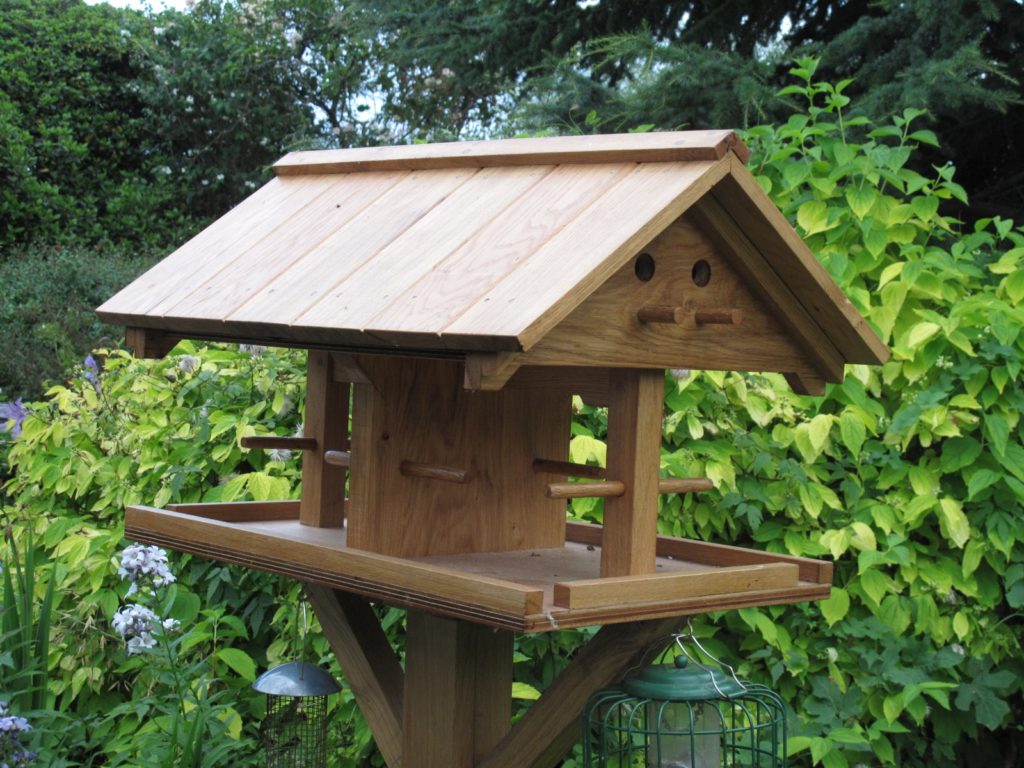 Another client asked us to make a contempoary iroko table for their garden to their design and measurements – we hope you agree with us that it looks amazing with it's simple sharp lines!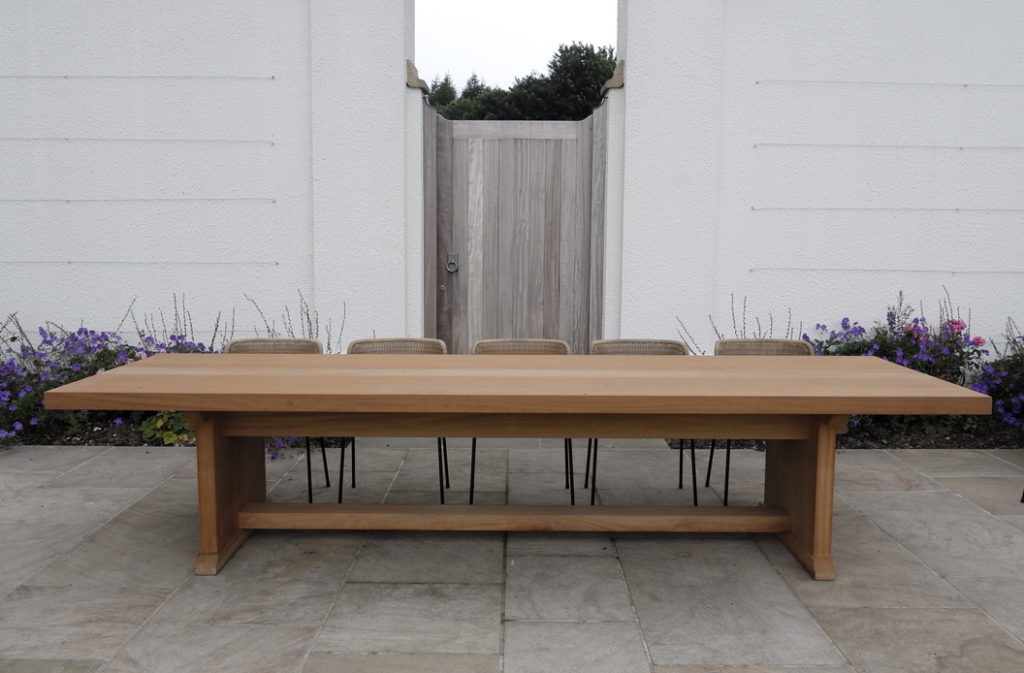 We have made smaller tables in softwood for another client – he bought two benches from us and ideally wanted a table that would fit between them – so we made him one!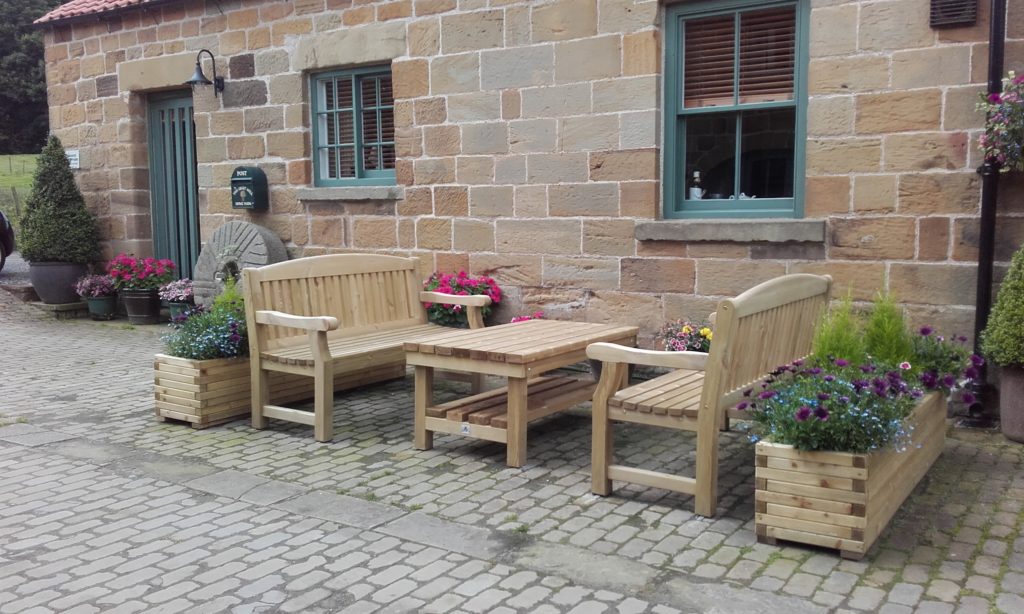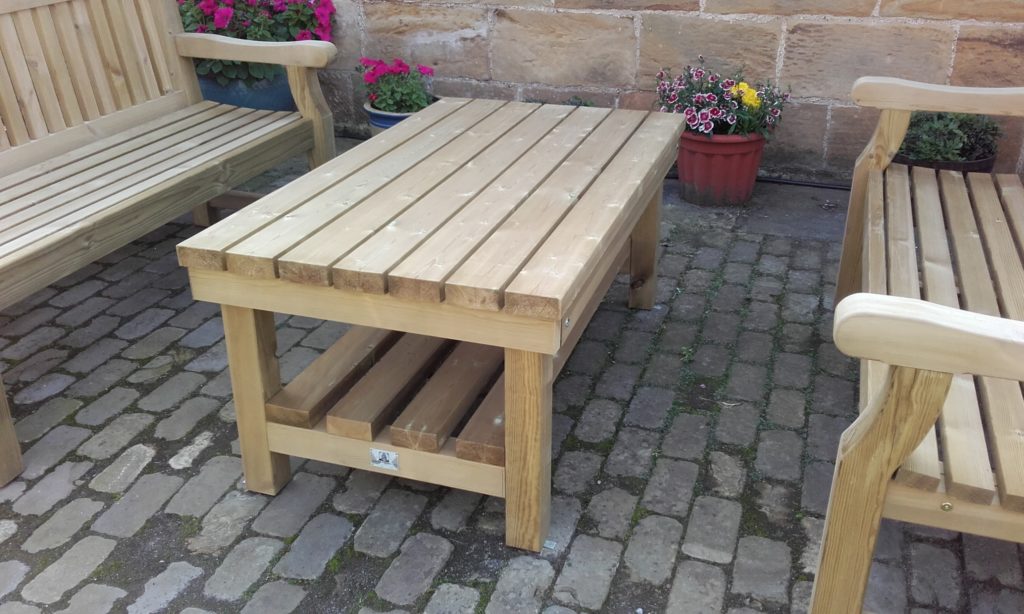 The RHS garden, Harlow Carr in Harrogate, also ordered a number of picnic tables to use in their garden, which is open to the public. Our picnic tables come with a 5 year guarantee and are so solid that they will not tip up.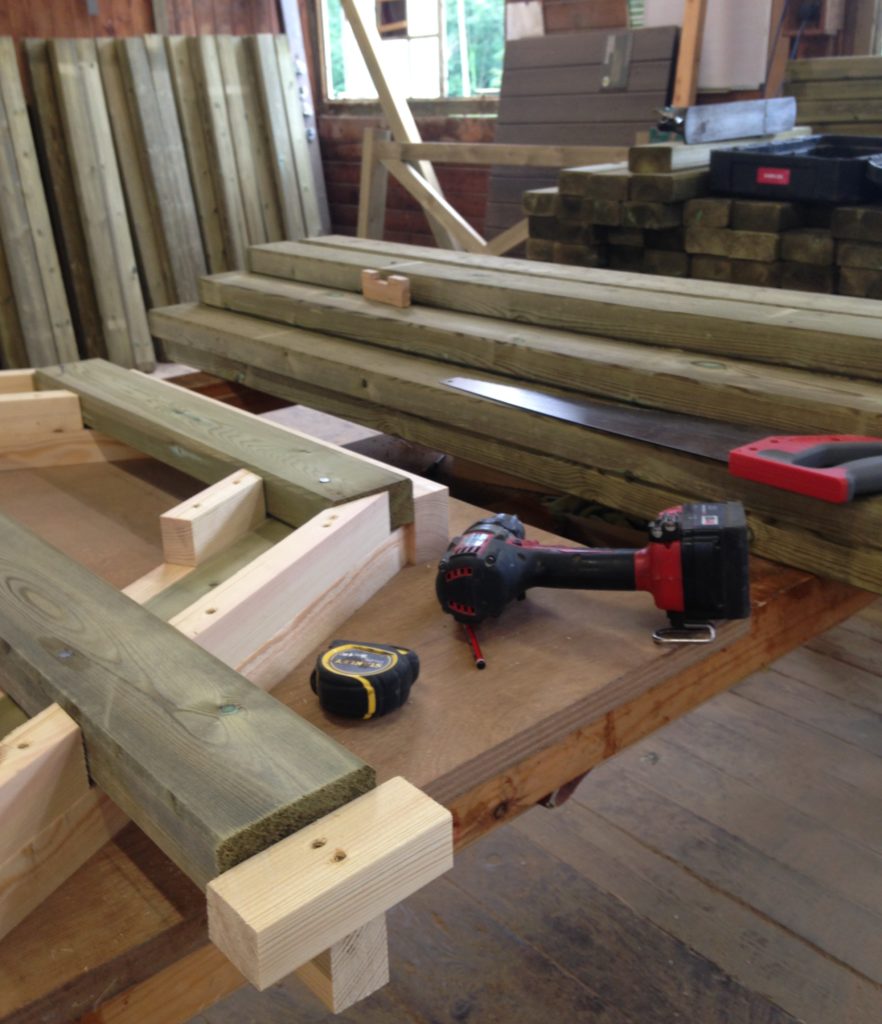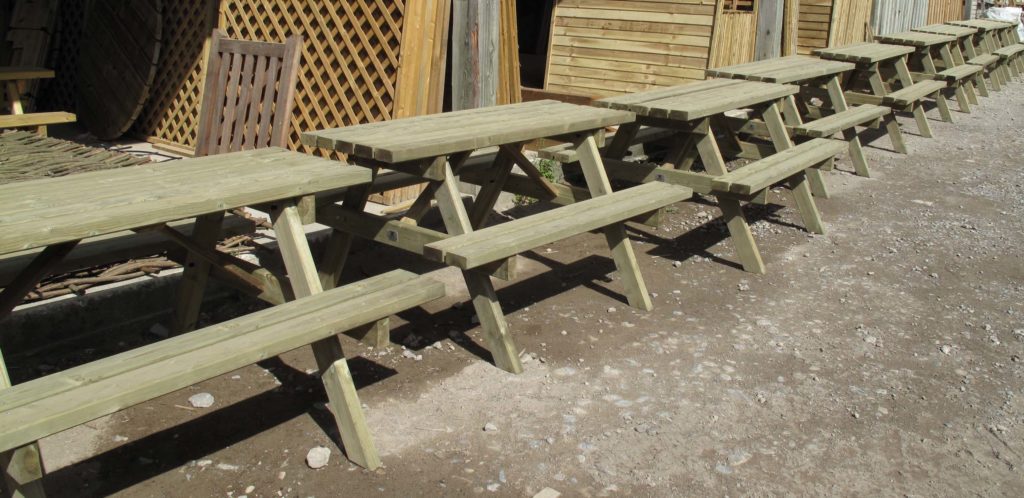 We really enjoy making bespoke and one-off timber items – for more information on our bespoke products, please click here.
We thoroughly enjoyed our 3 days at the Great Yorkshire Show in Harrogate.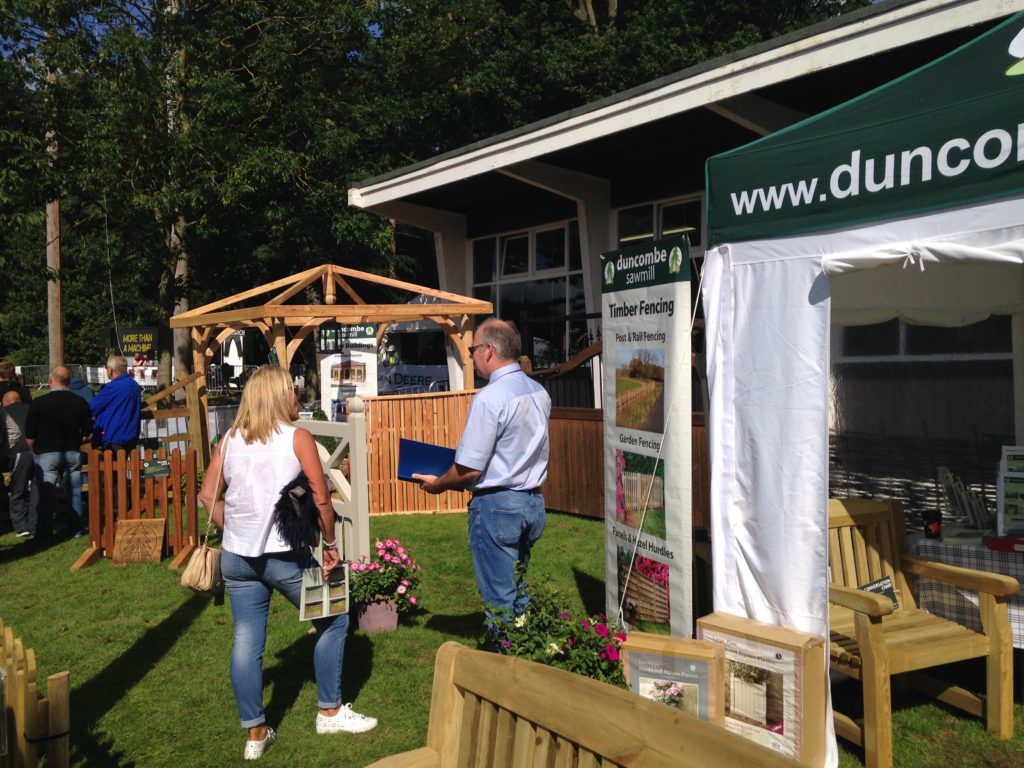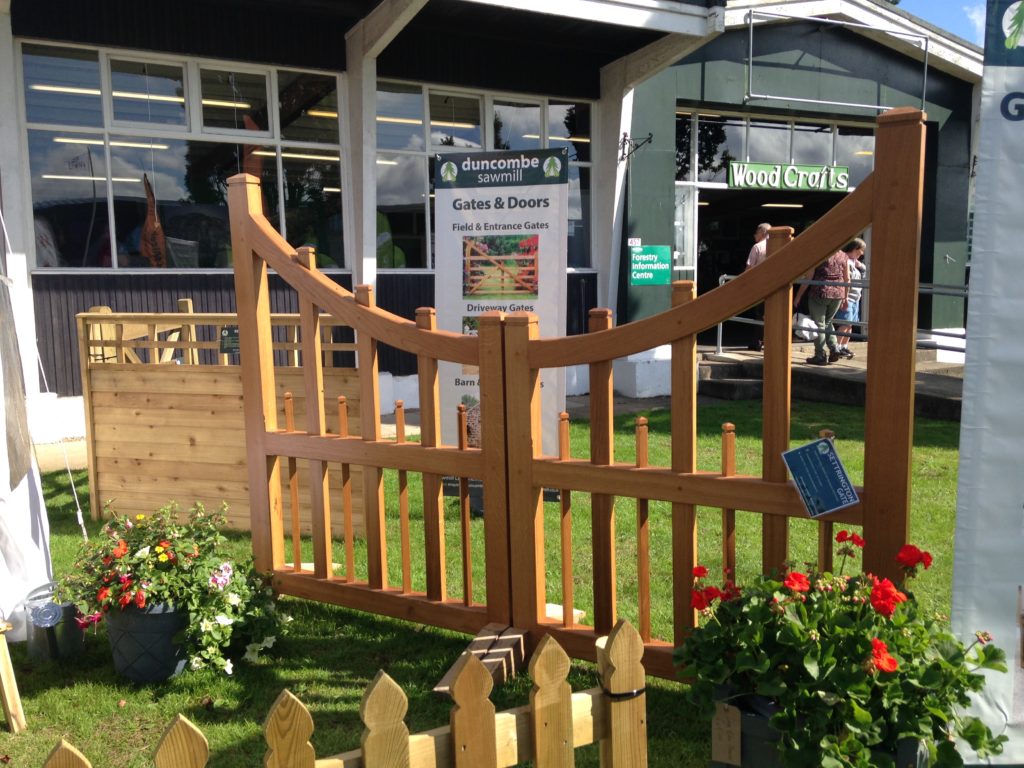 And to cap it all, we were awarded Best Trade Stand in the Forestry Section.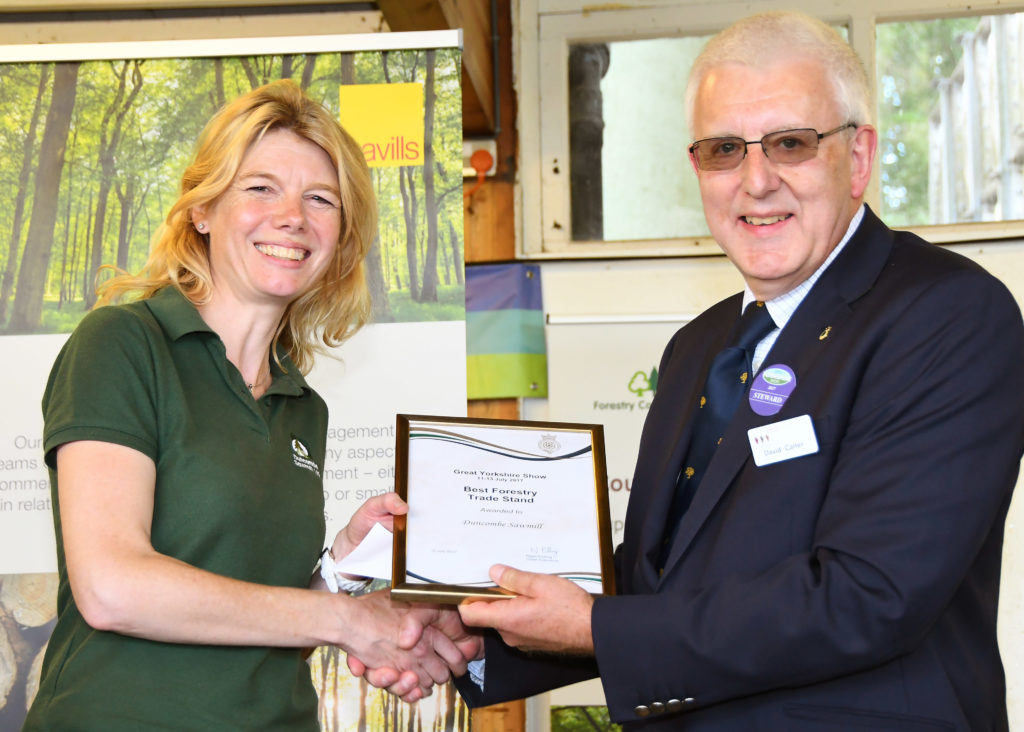 We were very pleased with all the interest and positive comments we received about our wessex style gates and in the larch framed timber framed gazebo we took to the show.
We hope you will come and see us there next year in the newly revamped Forestry Pavillion!
Tony Robinson and his film crew visited the Sawmill last September when they filmed us for a day showing larch timber logs arriving from nearby Castle Howard Estate, being cut by Dave in our mill into gate components and left to dry.
He then helped Eddie and Shep in the joiner's shop make a larch 5 bar gate that had been ordered by the North york Moors National Park.  When he made the gate, Tony put the final touch to the gate – a Duncombe Sawmill badge – except that he nailed it on wonky!
Can you find that gate?  It was hung in the North York Moors National Park but where?  Email us the correct location and we will give you 10% off the price of any gate ordered in May, June or July 2017!
We look forward to receiving your replies at enquiries@duncombesawmill.co.uk.
HOW TO PROTECT YOUR GATE!
Gates are an investment and if looked after they will last for many years to come.  Read our guide below to find out the best way to protect your gate.
Wood is a natural product and can be affected by weather conditions; therefore it is important to maintain gates annually to prevent unwanted deterioration, and protect against cold winters and UK summers.
We strongly recommend that all gates are given at least two coats of protective treatment or finish before they are hung and that the gates are as dry as possible before any application.
Softwoods
Applying spirit based wood preserving treatments every 6 months just before summer and winter, with a natural brush to avoid loss of bristles, will help protect against the extreme changes in temperature.  Unfortunately water-based treatments may cause the re-absorption of water, encouraging the gate to crack or allowing rot to set in, making the gate susceptible to faster deterioration.  We do not recommend that you apply varnish.
Hardwoods
This timber is easier to look after as the nature of the wood means it will look after itself to a certain extent due to its natural oils.  We recommend applying an initial coat of either Osmoil for oak or teak oil for iroko in order to prolong the life of your gate.  However as with all timber, gates manufactured from hardwood timber will fade in colour over time – to slow down the fading process and keep the warmth and colour of your gate, use a product that contains UV protection.
Pressure treated softwood
At Duncombe Sawmill, gates made from softwood are pre-treated to safeguard them from rot as this is one of the best ways to protect your gate.  The wood is placed in a closed cylinder then vacuum and pressure are applied to force treatments into the wood.  Once treated the gate needs no further treatment unless you wish to stain it for cosmetic purposes – however applying annual coats of preservative or stain will help increase the longevity of the gate.
At Duncombe Sawmill we offer softwood gates pressure treated with Tanalith E. This can then be painted or stained to a finish of your choice once the gate is completely dry.
When maintaining your timber gate please remember:
Treat both sides of your product without allowing each side to dry in-between as it can put the item at risk of twisting or warping.
Stain / Oil the timber in the same direction of the grain.
Coat end grains of timber well including the bottom of your gate.
If painting your gates, make sure that the gate is completely dry before painting.
Note:  Gates may shrink or swell slightly and cracks may appear along the grain, but all this is to be expected with a natural timber gate and is part of the character of the timber.
Yes Emma Woods from Duncombe Sawmill visited No 10 yesterday when she went to Downing Street to a reception to celebrate Small Business Saturday 2016!
The national campaign chooses 100 small businesses each year from around the UK. This year Duncombe Sawmill was fortunate enough to be included.
The exciting trip to No 10 Downing Street included meeting many of the other 100 businesses to take part in the event this year, as well as the Small Business Minister, Margot James MP.
Small Business Saturday
Small Business Saturday, a grassroots, not-for-profit campaign, places small, independent businesses in communities across the country in the national spotlight. Its aim is to prompt people not only to spend money with small independent businesses in the run-up to Christmas but also to create a mind-set to support them all year round.
The main Small Business Saturday event will take place tomorrow at No 10, on 3rd December 2016. Duncombe Sawmill will be joining in all the festivities in Helmsley from 10.30 – 1.00.  Helmsley itself has 'five hours of festive fun' planned, along with the launch of its month-long Angel Festival.
We will be decorating our display area with wooden angels and have a selection of wooden Christmas decorations for children to decorate, as well as family games to play.  We hope you will come and join us!
For more information click here, or use our contact page for details on how to get in touch.
Small Business Saturday is coming to Helmsley in November and December.
And even though it seems a little early, as part of the event we are starting to get ready for Christmas in Helmsley!
Duncombe Sawmill has been chosen as one of the "Small Business Saturday 100" this year, so we will definitely be celebrating in the market place on 2nd November when the Small Business Saturday Bus Tour comes to Helmsley from 10am – 1pm.  
Steve, our joiner, will be there from 10.30 – giving a demonstration on how we make our picnic tables, and possibly some of our garden gates too.  There will also be demonstrations by the Stickman andAmanda Field Millinery; and some of the Helmsley chefs will be doing food tastings.
We have also been busy making angels to decorate our display area in town as part of the Angel Festival and Small Business Saturday events taking place in Helmsley from 3rd December.   We will be celebrating in our display area near the Castle where we will have wooden Christmas discs for children to decorate and a great game for all the family to play from 10.30 onwards.
Come and see us on either day and enjoy in the fun!
You can find out more by clicking here
We are very pleased with our new video which shows some of our products being made from start to finish on the premises, still using traditional techniques.
We are proud of the fact that we cut locally supplied FSC sawlogs in our mill and use them to make gates and fence panels in our joinery shop.
This attention to detail allows the joiners to create bespoke products made to any size as well as selecting the best timber possible for the job in hand.
As you can see, the team make our entrance gates, bent heel gates and our larch lap panels from scratch on the premises, cutting and treating the timber and then making all the components ourselves!
Vote Now!!! We are thrilled to have been nominated for Minster FM's Listeners Choice Awards 2016 in the Best Specialist Retailer category.
We would really appreciate it if you could vote for us at www.minsterfm.com/local-events/listenerchoiceawards.php!!
Voting is open until 25th September 2016.
Thank you.
Vote now!!! The awards categories are:
Best Attraction, Best Convenience Retailer, Best Event, Best Night Out, Best High Street Shop, Best Place to Stay, Best Public House, Best Restaurant, Best Specialist Retailer, Best Takeaway, Best Tradesperson, There When You Need Them.
Minster FM Awards
Minster FM has brought a brand new award ceremony to North Yorkshire.  The Listener Choice Awards, sponsored by YH Training Services,  are all about the businesses that make a real difference to our every day lives.  The winners are selected by a listener votes and announced with a live broadcast from the awards ceremony at York Theatre Royal on Tuesday October 18th.